"The Evolution of Safety" video currently up on SAFEisFAST is a comprehensive overview of the safety initiative in motorsports from an awakening awareness in the late 1960s to the intensive efforts of present-day innovators to address the safety issue.
Bob Varsha hosts the presentation which features RRDC members Brian Redman, Dario Franchitti and Dr. Steve Olvey.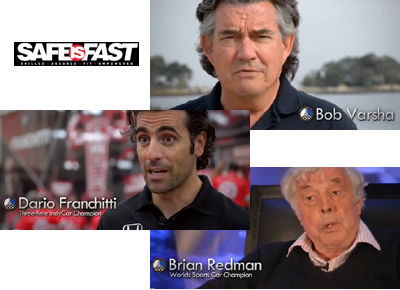 Redman survived the 1960s which were basically re-runs of the preceding decades in which one in four racing drivers were killed on the job. Drivers dealt with the danger presented by unsafe racetracks and racecars the best way they could. As Redman points out, about half the drivers of his era eschewed the use of seat belts, preferring to be thrown clear of a crashing racecar rather than being trapped in the virtually inevitable fire that followed.
Franchitti is a student of the evolution of motorsports safety, putting in historic context the current technology. Both Redman and Franchitti give much credit to fellow RRDC member Sir Jackie Stewart for using his bully pulpit as three-time world driving champion to force the industry to sit up and take notice.
From Stewart's efforts sprung the International Safety Initiative which fostered the FIA Institute for Motorsports Safety founded by Professor Sid Watkins and Dr. Olvey who conducted the first comprehensive study of the nature of driver injuries with his colleague Dr. Terry Trammell. The results of this five-year study were shared with racecar designers and engineers, leading to the driver safety cell.
The safety cell concept launched individual studies of the components that make up the suite of equipment that protects the driver during accidents from minor to catastrophic. Thus the continuous improvement of helmets, fire suits, harnesses, seats, head collars and the introduction of a singular live-saver in the HANS device.