John Morton's rollicking remembrance of his time working for Carroll Shelby – "Inside Shelby American, Wrenching and Racing with Carroll Shelby in the 1960s" – is available from Motorbooks. On Dec. 7, Morton will receive the 2013 Lindley Bothwell Lifetime Achievement Award at the Fabulous Fifties Annual Banquet at the Proud Bird in El Segundo, Calif.
Obviously the two events are connected only by the fact that Morton will be signing copies of his book at the banquet. You can order a signed copy right now directly from John at johnmortonracing@att.net for $32.
Morton's first position in the racing industry was at the pushing end of a broom in Carroll Shelby's shop in Venice. He worked his way up to a team driver slot and was paired with Ken Miles at Sebring in 1964. The car failed to finish, but Morton won the GT class and was second overall in the Road American 500 with Skip Scott later that season.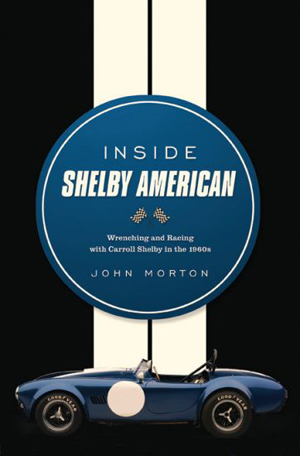 His remarkable success with Peter Brock's BRE Datsun operation is well documented by his longtime companion Sylvia Wilkinson in "The Stainless Steel Carrot" – one of the seminal racing books of the 20th century, recently "revisited". You can also order Carrot from Morton, autographed for $46. Sylvia says, "I'll cover the postage and handling, and the full $46 goes to animal rescue in the project I've done with Dean Case." As to John penning a book himself, Wilkinson, a noted author, said, "He has promised me that he won't write another one!" Seems she had to type up his "pencil written, legal pad book" for him.
An A-list professional driver from his time with Shelby, Morton's c.v. reads like "raced there, won". Now 71, he's still sought by vintage racecar owners to take their "babies" for brisk outings. Among his frequent callers is the Collier Museum.
Lindley Bothwell was a major Southern California orange grower and respected citrus consultant from his ranch in the San Fernando Valley. He was also a major antique car collector and owned one of the largest stables of significant automobiles in the country in the 1950s. Bothwell raced many of the cars in his collection and was heavily involved in the Sports Car Club of America. An avid sportsman, he was also a serious rower and pioneer surfer.
Phil Hill and Art Evans founded the Fabulous Fifties Sports Car Club for mostly social purposes. Past recipients of the Bothwell Award include Carroll Shelby, Dan Gurney, Phil Remington, Les Richter, Rodger Ward, Bob Bondurant and Jim Hall, to mention but a few.
To secure the necessary reservation for the Fabulous Fifties Annual Banquet, send checks ($65 per person) made payable to Alice Hanks to 17766 Tramanto Dr., Pacific Palisades, CA 90272. Let Alice know your preference of Beef or Chicken and give her a list of your guests. Alice's phone: (310) 454-1047.