Sir Jack Brabham, one of motor racing's giants, passed away quietly at his Gold Coast home in Australia today. The three-time Formula 1 World Champion was 88. Every major news outlet in the world has paid homage to the ARAF flight mechanic who became a racing legend. Tributes appear in RACER, Autoweek and Autosport.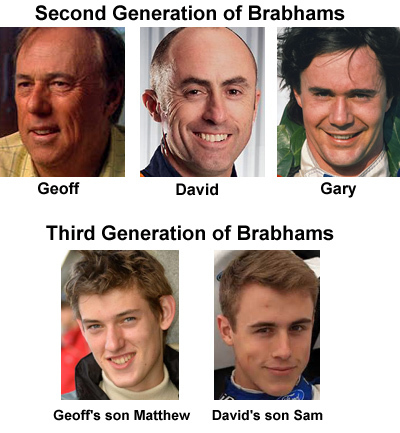 Quite affable, Sir Jack was a great story teller. Here's one that he told Leo Mehl who related it to me. A couple of years later, I ran into Brabham at the Thunderdome outside Melbourne and asked him to retell that tale. It goes like this:
"Denny (Hulme), Ron (Tauranac) and I were exploring one of the wild animal parks near Kyalami when we drove up on a troop of baboons that had the road completely blocked. They were milling about, checking us out when this big male jumped up on the bonnet and sat there staring at us. Quite unnerving. I eased the car clear of the group, floored it and jammed on the brakes, but he grabbed the wipers and held on. Obviously, he'd done this before. By now we'd drawn a bit of a crowd with this carload of German tourists taking particular delight at our predicament. It was about then that Ron and I noticed the big ape was actually staring past us at Denny in the rear seat. We made a few rude remarks about Denny's attractiveness to one of his ancestors, and he fired back that the big boy seemed to be looking past him too. That's when we noticed a tin of biscuits on the package tray over Denny's shoulder. Denny grabbed the biscuits, held it up to make sure the beast was paying attention, rolled down the window and lobbed the tin through the open rear window of the Germans' car. Last I saw in the mirror was that ape's red butt disappearing through their window and a passel of Germans scrambling for their lives."
Leo,a great story teller in his own right, had relayed it perfectly.
A member of the RRDC's Class of 1961, Sir Jack was one of the club's longest tenured members at his passing. We add our prayers and condolences for Brabham's family and close friends to those pouring in from the racing community worldwide. We'll not see his like again. – Bill King