TONY ADAMOWICZ BATTLING BRAIN CANCER
Tony Adamowicz is in the race of his life, battling Grade 4 Glioblastoma – a virulent brain cancer for which he had surgery last June and again in November. The ordeal has left Tony unable to live independently, and he is currently in a 24-7 nursing care facility. To help allay all the brutal expenses associated with this level of medical care, Tony's good friend Steve Johnson has set up a GoFundMe account for donations from A2Z's legion of friends and admirers. That means you. Please help our fellow RRDC member.
CATHERINE CRAWFORD UNDERGOES EMERGENCY SURGERY
Panoz DeltaWing race engineer Catherine Crawford underwent emergency surgery for a brain tumor while in Italy in late March.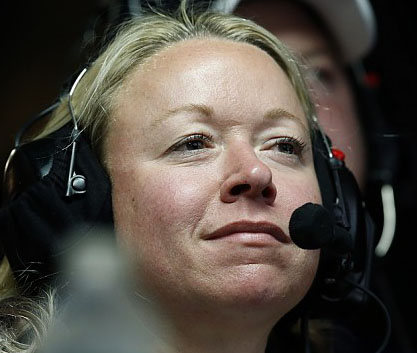 Crawford, who is also project manager on the US Formula 4 one-make chassis built by her family's Crawford Composites business, was rushed to a Rome hospital while on a trip combining business and pleasure with husband Russ Murr.
Her surgeons praised Murr for his swift actions in taking Crawford to the hospital after she complained of severe headaches. The hospital's medical staff was encouraged by her progress following surgery, and she was discharged into the care of her family on April 6, returning to the U.S. on April 10 to continue her recovery.
In a statement, the family said, "We can't thank enough the exceptional surgeon, Dr. Biagia La Pira, and all the folks at Umberto I Hospital in Rome for all they've done for Kate and our family."
Since leaving her position as an aerodynamicist at Jordan Formula 1 in 2002, Crawford has had major design and engineering roles in Crawford Composites' programs, including the manufacture and racing of its DP03 Daytona Prototype,
Crawford was also due to be race engineer for the all-female Grace Autosport team entered in this year's Indianapolis 500.
REMINDER: GET YOUR SIGNED COPY OF BRIAN REDMAN'S MEMOIR TODAY
Daring Drivers, Deadly Tracks will be out on Amazon in May but signed copies are available right now from Brian's site. The difference to Brian is $35 when ordered directly compared to $5 in Amazon royalties.
GORDON KIRBY ON INDY CAR RACING 100 YEARS AGO
If you're unfamiliar with or just not regularly reading Gordon Kirby's erudite essays on our favorite sport, then you're missing a perspective that's not only unique but also historically anchored but pretty much spot on. One recent "The Way It Is" piece that caught our eye on Kirby's Web page put the 100 years of IndyCar racing into context.
Starting out: "Many fans today would be surprised to know that one hundred years ago in 1916 AAA National Championship racing was one of the most visible and popular sports in America. There were fifteen Championship races in 1916 and another forty AAA non-championship races. The season stretched from March through November and most of the major races drew huge crowds of 100,000 or more fans. In total, legions of fans all around the country enjoyed watching AAA races a century ago."
Check it out and become a Kirby regular.
ROGER PENSKE IMRRC'S 2016 ARGETSINGER AWARD HONOREE
Roger Penske, one of auto racing's most notable team owners, will be honored June 30th by the International Motor Racing Research Center (IMRRC) with the 2016 Cameron R. Argetsinger Award for Outstanding Contributions to Motorsports.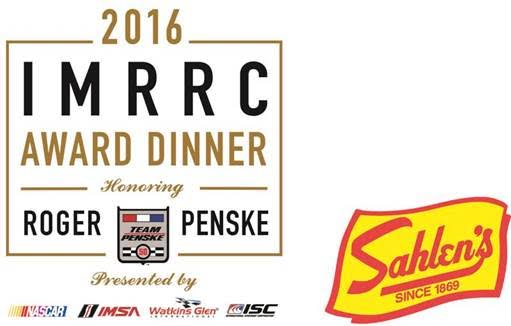 As Team Penske celebrates its 50th year in motorsports in 2016, Penske will receive the award at a gala dinner presented by NASCAR, International Speedway Corp., Watkins Glen International and IMSA. The dinner will be at the internationally renowned Corning Museum of Glass in nearby Corning, N.Y.
Penske is the third recipient of the Argetsinger Award. Chip Ganassi was the inaugural honoree in 2014, with Richard Petty being the 2015 recipient.
The award memorializes Cameron R. Argetsinger, founder and organizer of the first races at Watkins Glen almost 70 years ago.
"I am honored to be selected this year to receive the Cameron R. Argetsinger Award from the International Motor Racing Research Center," Penske said. "The IMRRC does a terrific job of maintaining and documenting the heritage of motorsports, and we appreciate all they do to chronicle and preserve racing history.
"To receive the Cameron R. Argetsinger Award in Team Penske's 50th year in motorsports is truly a special honor and I am looking forward to a great evening with friends and colleagues."
Tickets at $250 per person may be purchased online or by calling the Racing Research Center at (607) 535-9044.
NEW WATKINS GLEN SURFACE UNVEILED WITH RRDC MEMBER HELP
Watkins Glen International will stage a ribbon-cutting ceremony Friday, April 15th to kick off the 2016 racing season on its repaved track surface. Bob Varsha will serve as Master of Ceremonies with special guests Derek Bell and Andy Lally – all three RRDC members. Bell and Lally have a combined 10 Glen wins between them.
SIR JOHN SURTEES ON THE 2016 MOTOR SPORT HoF NOMINEES
In a fascinating Motor Sport magazine podcast, Sir John Surtees discussed the various nominees for the 2016 Motor Sport Hall of Fame class, which includes RRDC members Derek Bell, Brian Redman, Dan Gurney, A.J. Foyt and Roger Penske. He also revealed his personal favorites.
If you've been to Bill Warner's Amelia Island Concours d'Elegance over the years, you've perhaps been lucky enough to catch a panel or two that's included Surtees. He conveys his voluminous knowledge of and passion for the sport in clear terms. And, of course, there's delightful anecdotal backup for his opinions.
Voting is now closed. The induction ceremonies will take place May 31st at the Royal Automobile Club at Woodcote Park, in Epsom, Surrey. In the afternoon, guests will be able to participate in a Q&A with members of the HoF. The induction ceremony for the Class of 2015 will be over dinner that evening.
OSCAR'S KIDRACERS SET FOR LBGP WEEKEND
Oscar Kovoleski's Kidracers are set for competition in the Expo Center at Long Beach in conjunction with the LBGP, April 15-17. John and Leslie Dinkel are running the show for Oscar who won't be making it this year. In 2015, he says nearly 700 kids raced at the Expo – actually he said the number was 689.

Oscar recalled attending the first LBGP in 1975 – an SCCA event with Formula 5000 being the feature show. "I was there," Oscar said. "Got a room in a flea bag hotel 'overlooking' one of the racetrack corners…cost $11 a night!
"I met Chris Pook, Dan Gurney, Pete Biro, others and asked if I could help out. I did a little as a Go Fer. Later I would meet Jim Michaelian (below, LBGP CEO, checking out a Kidracer) when my company Auto World – plus Model Cars, Slot Cars, R/C cars – did promotions at numerous tracks I was racing at."