BILL ALSUP, 1938-2016
SILVERTON, CO, Aug. 9, 2016 – Bill Alsup, RRDC member and former CART driver, was killed
instantly in a crane accident outside Silverton, CO, where he was owner of Lift Services, Inc. According to local news accounts, the crane he was operating rolled over while ascending a steep grade.
Alsup was CART's first Rookie of the Year in 1979, joining the series the year after winning the SCCA VW Gold Cup Super Vee Championship. His Champ Car career lasted five years and included 57 starts with podium finishes at Michigan, Riverside and Milwaukee – a super speedway, a road course and a short oval – showing his versatility. That 1981 season he was the third driver for Team Penske alongside Rick Mears and Bobby Unser, finishing runner-up to Mears for the championship.
For more on Bill Alsup, read the Racer.com story by Mark Glendenning and Robin Miller, plus Gordon's Kirby's remembrance of this interesting man.
CATHERINE CRAWFORD MEDICAL UPDATE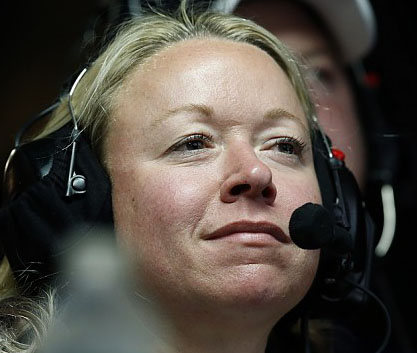 DENVER, N.C., Aug. 15, 2016 – You will recall that race engineer and designer Catherine Crawford had emergency brain surgery while on vacation in Italy in late March. Her father Max Crawford reports that she is basically out of the woods. "We went from nearly losing her to having her making a steady and continuous recovery. Her last check-up was so encouraging – no cancer – that she's not scheduled for another for six months. She remains on bed rest and her doctors hope to start her on T-cell treatment in a few months. Our family is blessed."
This is wonderful news. Continue your thoughts and prayers for Catherine and her wonderful family.
LISA NOBLE RESIGNS AS SCCA PRESIDENT
TOPEKA, KS, Aug. 10, 2016 – Lisa Noble has resigned as President and CEO of the Sports Car
Club of America to pursue other challenges, the SCCA Board of Directors announced Wednesday.
Noble had previously served on the SCCA board of directors, including as chairman of the board, for six years before transitioning to the president's role in October 2013. An SCCA member since a teenager, Noble will continue to compete in the club's road racing and U.S. Majors Tour program in her Formula Vee.
LIME ROCK RRDC LUNCHEON REMINDER
LIME ROCK, CT, Aug. 11, 2016 – Sunday, Sept. 4, is the date for our annual member luncheon at Lime Rock Park during the Park Concours d'Elegance, part of the Historic Festival 34. Time, noon. Guests welcome.
This year's honored guests are the dynamic duo of RRDC members John Morton and Pete Brock. Among Brock's numerous accomplishments is, of course, his designing the Daytona Cobra Coupe and founding his wildly successful Brock Racing Enterprises (BRE), for which Morton was asked to drive and, together, they won prodigiously between 1969 and 1972 in BRE Datsuns in C-Production and 2.5-liter Trans-Am. Morton will also race a BRE Datsun 240Z over the weekend.
Members may bring guests: $45 per person, payable at the "door", cash or check. Please RSVP to Judy Stropus by Aug. 18 and please include the names of your guests. One-day passes for Sunday only for members and their guests can be picked up at Will Call.