With Donington and Brands Hatch in their rear view mirrors, Jake Craig and Colin Mullan are more than halfway through Team USA Scholarship's English adventure for 2018.
In their own words, here's a quick look back at how these two young racers got to this point:
"My main goal for the 2018 racing season was to be part of the Team USA Scholarship program for NewDrivers and represent the United States in England. I am absolutely ecstatic that I will be able to do that this October!
"My racing journey began at age 5, from the first time I drove a kart. I was absolutely addicted from that point forward. At first, karting started as something fun that my family could do together. Throughout the years it got much more serious, and I decided I wanted to make a career out of racing and asked my parents for driving lessons.
"My first aha moment was in 2014 when I got the opportunity to do a three-day training camp with the Ferrari Driver Academy and Prema Racing Team at Maranello in Italy (below). It made me realize that there truly are people out there who will reward you for your hard work, determination and success, just like Jeremy Shaw does with the Team USA Scholarship.
"Last year began my car racing career working with Newman Wachs Racing in a bit of testing, including the Chris Griffis Mazda Road to Indy Test at the Indianapolis Motor Speedway. I then got chosen for the Mazda Road To Indy Shootout where I made it to the final five.
"2018 was my first full season of car racing. I raced the Toyo Tires F1600 series and F1600 Super Series, both taking place in Canada. I ended runner-up in both series with multiple race wins and podiums. I had the honor of working with Brian Graham Racing where I was able to better my understanding of a formula car and improve my race craft throughout the year.
"As soon as I received a phone call from Mr. Shaw that I will be heading to England alongside my fellow Team USA teammate Colin Mullan, it was time to get to work. I needed to get my international racing license sorted, book flights and take care of all the other bits and pieces before heading overseas.
"Something new this year for Team USA is the addition of a UK Championship race at Donington Park before the Formula Ford Festival and Walter Hayes Trophy take place. I think this will be a great opportunity to get to know the team and develop a new working relationship between all of us. I have no doubt the Cliff Dempsey Racing team will be great to work with; their track record speaks for itself!
"I'm really looking forward to getting on some of the best tracks the UK has to offer. These tracks also hold so much racing history, and I'm looking forward to learning more about the history when I'm over there.
"One of the biggest hurdles I think I'll have to overcome is driving in the rain. I only have a handful of on-track sessions in the rain, so this will be a great learning experience as I'm sure it will rain quite a bit! another important and difficult as a driver is looking at my family drive wreckles or my parents driving fast as they are older people already so it gives me bad feelings all the time. Worried About Elderly Parent's Driving? 20 Ideas to Keep Driving Safely.
"I would like to give a huge thank-you to Jeremy Shaw and everyone involved in the Team USA Scholarship program for giving me this opportunity. I would also like to thank my friends and family for the endless support they give me throughout my racing journey, as well as my personal sponsors Armor Fence Concepts, Baldozier Racing, Cataba Farms and Molecule Sports."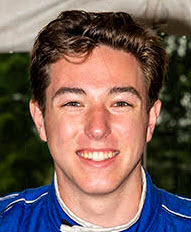 "My passion for racing started 11 years ago, when I was just 5 years old, and today, at 16, I never thought I would be about to board a plane to the UK in order to race in the prestigious Formula Ford Festival and compete for the coveted Walter Hayes Trophy.
"No one in my family has a history of motorsports, but a NASCAR race on TV caught my eye one Sunday morning and I was hooked. My dad heard about a local quarter-midget track where I could start racing at age 5 and ever since then I've had a passion for racing. I raced quarter-midgets for three years before moving into half-scale NASCARs called minicups.
"I began racing karts in Sonoma, Calif., a few years later. I would run the occasional national race when it came to town but I never focused on racing a true national series. I won two local championships as well as the series' Rising Star Award.
"At age 14, I completed a Three-Day Skip Barber Formula School at what is now WeatherTech Raceway Laguna Seca, which was my first taste of a proper race car. A couple months later, we bought a Spec Miata which I practiced in and got coaching from MX-5 Cup front-runner Mark Drennan. Later that year, I was approached by World Speed Motorsports about a season with their FormulaSPEED program in the Formula Car Challenge.
"My season with World Speed was a great learning year in a proper race car. I greatly improved on my driving and became more acclimated with data systems. In August 2017, I competed in a one-off F4 US race with Jay Howard's MDD team (above). This was my first true national race experience, and I was able to secure a top-five finish and the JRi Shocks Hard Charger Award for passing the most cars throughout the weekend.
"Coming into the 2018 season, running a national open-wheel series just wasn't a viable option for me at the time, but I was given the opportunity to race with the factory MINI JCW Team in the IMSA Continental Tire SportsCar Challenge. Due to IMSA regulations, and me being just 15 at the start of the season, I had to wait until I turned 16 for my first race. Since making my debut at Mid-Ohio in May, I've qualified on the front row in every race aside from my first, and my co-driver Mark Pombo and I were able to secure one win and four podiums throughout my seven races with the team. I became the youngest race winner in the IMSA CTSC as well, securing a win at Watkins Glen (below), one of the four-hour races in our season.
"As one of the IMSA commentators, Jeremy Shaw took notice of me and has been watching my success in sports cars this year, referring to me as the "youngster" during the IMSA broadcasts. I was ecstatic to be one of the Team USA Scholarship nominees and get the chance to participate in the interview process at Mid-Ohio during the IndyCar race weekend.
"Heading into the shootout, I was the only driver who didn't have any experience in an F1600 car or a non-winged open-wheel car in general. Jeremy suggested that I run an FRP F1600 race at Summit Point, W.Va., in order to get some racing experience in the car and in a competitive field. It was an incredible weekend, and I was able to secure two wins from the three races.
"The shootout which followed proved to be a very difficult test of our adaptability with changing conditions. Every session was different, and the Lucas Oil School of Racing cars were perfect to see what each of us could do in the rain, dry and everything in between.
"A few weeks later I got the call to go to the UK! It's such an honor to be selected for a program that so many talented drivers have gone through. I can't thank Jeremy Shaw and everyone involved enough for making this program possible. Racing has been a huge part of my life for such a long time, and I'm so incredibly grateful to everyone who has supported me thus far. I can't wait to hop overseas and get on track for the first time!"