PETERSEN MUSEUM HONORING PARNELLI JONES THIS WEEK
In celebration of Parnelli Jones's legacy and his contributions to automotive engineering and motorsports, the Petersen Automotive Museum will welcome guests to this Thursday night's opening reception of "Legends of Los Angeles: Southern California Race Cars and their Builders."
This very special reception will honor Parnelli Jones and include a video presentation about the iconic Indy 500 winner and Hall of Fame driver and his many achievements both on and off the race track. A guided presentation of the vehicles in the exhibit will be part of the night.
The evening will conclude with an auction featuring some very special personally-signed Parnelli Jones memorabilia.
A few tickets for this night honoring a great American motorsports hero are still available: https://www.petersen.org/legends
50/50 – THE STORY OF JOHN PAUL, JR., BY SYLVIA WILKINSON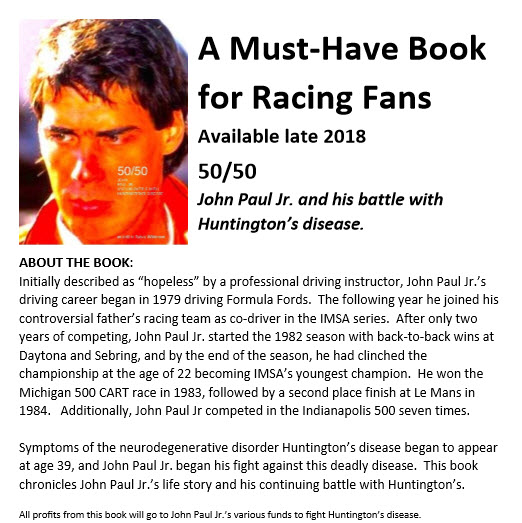 NOTE FROM SYLVIA ON AVAILABILITY:
List price for "50/50 is $40. Bookstores get 40% off if they pay in advance: $24, and if they take on consignment $26. Shipping is $4 per book. I have books here in El Segundo and Darlene Gray and John P have them in the valley.
Here are the payment methods:
1) PayPal at Chase using my email sywilk@sbcglobal.net
2) Checks payable to me and mailed to me at 514 Arena St, El Segundo, CA 90245-3016
We will be at Autobooks-Aerobooks (2900 W. Magnolia Blvd, Burbank, CA 91505) on Dec. 1 for a signing from 10-2. Jim Torres is bringing a 935 for display.
RACER, WRITER RON GRABLE PASSES
Accomplished racer and journalist Ron Grable passed away Oct. 31 in Prescott, Ariz. He was 85. Born in 1933, in Sullivan, Ind., he grew up in Southern California. He joined the Navy and served aboard the USS Philippine Sea, during the Korean War. After the Navy he attended University of California San Diego, where he earned a BSME in Mechanical Engineering.
He spent the next 40 years in California, working for various companies in the semiconductor industry, and in his spare time acquired a love for auto racing, motorcycle riding and flying. His racing exploits ranged from the purest amateur to international professional.
Early success in a Porsche Speedster, led to rides and an eventual A Sedan National Championship in 1966, at the wheel of a Dodge Dart. Applying his engineering aptitude, Grable helped to create and develop the Spectre HR1, a Chevy V-8 powered racecar for the SCCA's new Formula A (F5000) category, which Grable would drive to victory in the 1968 Run-Offs for his second National title. You might also be interested on check 2003 Dodge Omni.
His racing career stretched for more than 25 years, and featured competition in sports cars, prototypes, stock cars and Indy cars in locales from the U.S. to New Zealand and Australia to Japan, Mexico, Colombia, Canada, England, France and Italy. Along the way he was married for six years and had two children.
Hanging up his racing helmet in 1989, Grable took on a new career in automotive journalism as technical editor for Motor Trend Magazine. In this capacity he was responsible for testing, analyzing and reporting on all the varied products of the automobile industry. During this period he also revived his interest in aviation and began flying in aerobatic competitions.
Eventually leaving Motor Trend, Grable continued as a freelance journalist, writing for various aviation, automotive and motorcycle magazines.
In 1993, he was seriously injured in a motorcycle accident, which resulted in partial paralysis and forced him into retirement. Not long after, Grable married his longtime companion, Sandra, whom he had known since 1973. They settled into a quiet, peaceful life in Prescott, Ariz., where she helped him regain much of his mobility.
Ron is survived by his wife, Sandra; son, Christian; daughter, Stacia; granddaughter, Alexandra; brother, Dennis Grable; and sister, Victoria Allen.
Donations to the Humane Society in Ron's name would be greatly appreciated.
[Excerpted from the Prescott Valley (AZ) Daily Courier and Vintage RaceCar]
"HOBBO: MOTOR RACER, MOTOR MOUTH" BOOK SIGNING AT REVS

"A Special Evening with David Hobbs and Andrew Marriott" will be held at the Revs Institute in Naples, Fla., on Friday, Nov. 16, as part of The Revs Institute Speaker Series.
Revs will host a reception, a conversation and a book signing of "Hobbo: Motor Racer, Motor Mouth" with David Hobbs and co-author Andrew Marriott, who will share anecdotes of "Hobbo's" fascinating life as a race-car driver, television commentator and reluctant author. Marriott will explain the amusing challenges he faced while attempting to draw out pertinent life and career details from Hobbs in order to complete the book on time.
The evening will be held on Nov. 16 from 5:30 p.m. to 7:30 p.m. at the Revs Institute, 2500 S. Horseshoe Dr., Naples, Fla. Tickets are $75 (cost of book purchase not included). Tickets are limited, non-refundable, and must be purchased in advance online or by calling 239-687-7387.
Hobbs will also sign "Hobbo: Motor Racer, Motor Mouth" on Nov. 29 at 4 p.m. at the Vero Beach Book Center, 392 21st St., Vero Beach, Fla., 772-569-2050.
LYN ST. JAMES' TALLADEGA SPEED RECORD – 30 YEARS LATER
During Bill Elliott's run to the 1988 NASCAR Winston Cup Championship, Ford contracted Elliott and his brother, crew chief and engine builder Ernie Elliott to build and tune a special Thunderbird for Lyn St. James to drive at Talladega Superspeedway in an attempt to break the women's closed course speed record of 204.233 mph she'd set three years earlier at Dega in a Ford Mustang Probe GTP Prototype.
St. James and Elliott had history, the two having teamed Tom Gloy and Scott Pruitt to win the 1987 Daytona 24 GTO class title. A master promoter, she convinced Ford, Goodyear and the Elliotts to tackle the speed record project. It all came to fruition on Oct. 11, 1988, resulting in a 212.577 mph closed course woman's record, along with 21 national and international speed records. The full story is at the Ford Performance web site.
ROGER PENSKE 2018 SIMEONE FOUNDATION SPIRIT OF COMPETITION HONOREE
Roger Penske received of the Spirit of Competition Award from the Simeone Foundation Automotive Museum at its annual fundraising gala Oct. 31 at the Museum in Philadelphia.

Museum executive director Fred Simeone said, "No one epitomizes the 'Spirit of Competition' more than Roger Penske. He not only was an outstanding driver in his own right, but Team Penske is also one of the most successful racing teams in the history of motorsports."
Of the 11 previous Simeone honorees, 10 have been RRDC members, the inaugural recipient being Mario Andretti. Others are Janet Guthrie, John Fitch, Sam Posey, Hurley Haywood, Bobby Rahal, David Hobbs, Peter Brock, Derek Bell and Penske. The non-RRDC recipient was Craig Breedlove.