SAFEisFAST: REFRESHER COURSES ON CHASSIS SET-UP
Fellow racers,
Basic chassis set-up is required knowledge in every form of racing. And you can't fake it.
In this third installment of our Race Ready series we are focusing on the technical side of racing with IndyCar engineer Jay O'Connell.
This three-part series focuses on the basics of chassis setup, with the first covering everything you need to know about camber, toe, caster, bump-steer and Ackerman.
The second section explains how springs, shocks, anti-roll bars and bump rubbers work, with tips on curing understeer and oversteer problems.
The final part covers some of the overlooked secrets of speed including ride height, rake and weight-jacking.
Watch the trilogy here.
Bobby Rahal
BOB VARSHA MEDICAL UPDATE
Here's the very latest from our friend, Bob Varsha: "Without question the phrase I hear most often from the friends and family who are supporting me in this journey is 'stay positive.' Some days doing so is easier than others. Today is one of the latter. After the toll on my body from weeks of chemotherapy, followed by a positive Coronavirus diagnosis (you can't make this stuff up), I finally got the all-clear for the scans and lab work that would reveal what the chemo had accomplished. Sadly, the answer was "not much." The tumor is still there, and will need to be attacked with a new therapy. What that is remains to be seen. There will be better days."
LONG BEACH DINNER GUEST REDUX – JIM HALL
A much-anticipated highlight of the Long Beach Grand Prix week is the annual RRDC Banquet sponsored by Firestone. The main attraction is always the Letterman-style interview with the year's honoree conducted by RRDC President Bobby Rahal. The 2020 honoree Rick Mears would have been in the guest chair for this year's version had not the celebration fallen victim to the coronavirus pandemic along with the LBGP. As a sample of just what members and guests missed in April, producer Tom Davey has provided this link to the 2012 interview with Jim Hall. Last month we reprised Brian Redman's evening in the spotlight.
THE TORQUE SHOW #wherethewinnershang
If you haven't checked in on The Torque Show, do yourself a favor. RRDC members Justin Bell and Tommy Kendall travel the IMSA circuit and more producing a thoroughly entertaining paddock podcast that rivals anything on television. With travel on hiatus these days, you can still check out archived shows from earlier in the year. It's a treat.
GREAT READS: LUNCH WITH DEREK BELL
Motorsport Magazine is reprising its fascinating series "Great Reads: Lunch with…". The first achieved piece is Simon Taylor's Sept. 2009 interview with RRDC member Derek Bell near the family farm in Sussex, England. Taylor admits covering a career such as Bell's in a single day is a daunting task. Taylor admits: "After almost half a century of racing, a life chock-full of different tracks, teams, personalities and happenings good and bad – any chat with Derek can only scratch the surface. We spend more than four hours over lunch, walk back to his house, sit in the late afternoon sunshine by his swimming pool, and the stories keep coming. Finally I have to take my leave and, driving back to London, I remember more dramas, more people, more races we didn't get to." What there is makes for a "Great Read".

A few years ago, the Motorsports Hall of Fame of America commissioned acclaimed motorsports artist Arthur Benjamins to create the poster for our Class of 2018 induction.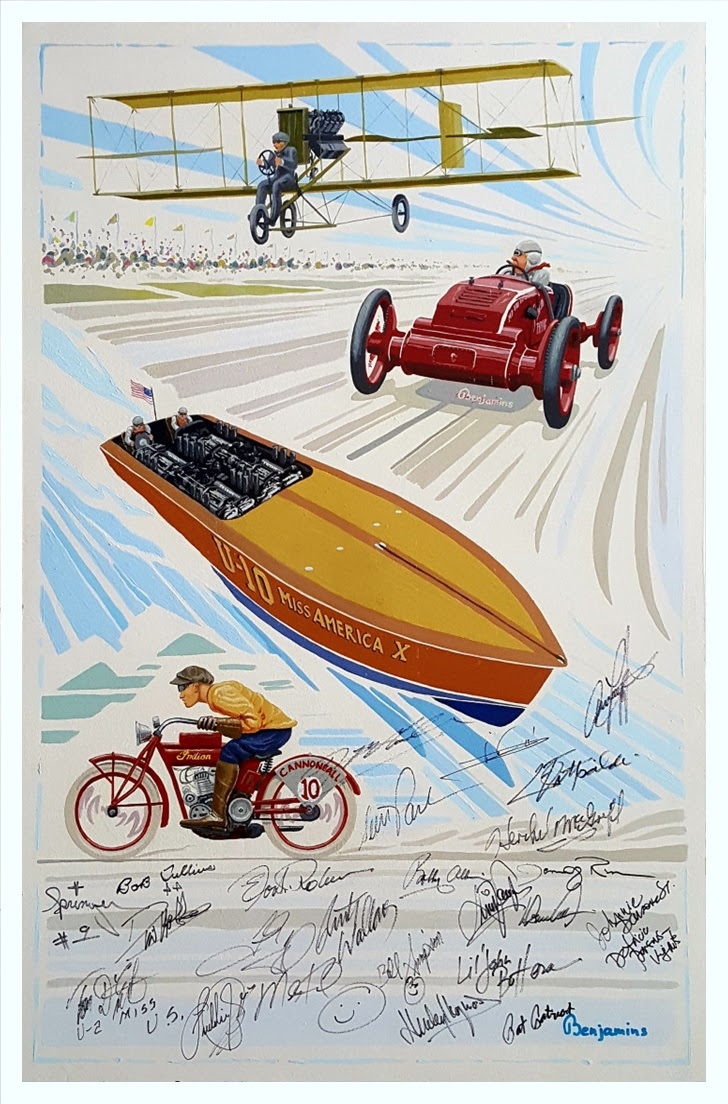 Now Arthur is offering this stunning original artwork for sale, signed by 19 Hall of Famers and the surviving family of three more Hall of Famers, and generously donating half the proceeds to the Hall of Fame.
Entitled "The Brave Few", this acrylic painting is on a 2-foot by 3-foot slab of wood, two inches thick.
The signers (in order of MSHoFA class) are Mario Andretti (1990), Bobby Allison ('92), Peter Revson signed by his sister Jennifer ('96), Tom D'Eath (2000), Emerson Fittipaldi ('01), Freddie Spencer ('01), Bill Simpson ('03), Johnnie Parsons signed by his daughter Patricia (('04), Jay Springsteen ('05), Hurley Haywood ('05), Hershel McGriff ('06), Elliott Forbes-Robinson ('06), David Hobbs ('09), Donnie Allison ('11), Arie Luyendyk ('14), Rusty Wallace ('15), Jeff Gordon ('18), Fred Merkel ('18), Pat Patrick ('18), Bob Tullius ('18), John Buttera signed by his daughter Leigh ('18), and Linda Vaughn ('19).
This is a once-in-a-lifetime opportunity to own a terrific piece of motorsports history, signed by a group that can never again be assembled. Contact the artist: arthur.benjamins@aol.com or 480-747-8903.
Please share this information with friends who might be interested. Let's make sure this historic piece of art finds a good home.